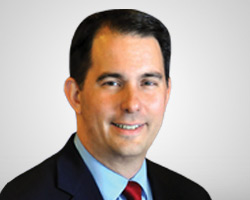 Governor Scott Walker
Young America's Foundation
President-Elect
Scott Walker is president-elect of YAF-a role he will assume full-time in early 2021. He served as the 45th governor of Wisconsin from 2011 to 2019. He previously served as Milwaukee county executive (2002 to 2010) and in the Wisconsin State Assembly (1993 to 2002).
Born in Colorado, Walker was raised in Iowa and in Wisconsin, before attending Marquette University. While in school, he worked for IBM before leaving his senior year to take an opportunity to work full-time in finance and development for the American Red Cross. As Milwaukee county executive, Walker was re-elected to the position by increased margins in 2004 and 2008 because he kept his promises to continuously reform county government and put taxpayers first.
On January 3, 2011, Scott Walker was inaugurated as the 45th governor of Wisconsin. One of his first reforms, Act 10, helped eliminate the state's $3.6 billion budget deficit without raising taxes or cutting health care for those in need. It gave schools and local governments the tools to balance budgets without the massive layoffs seen in other states.
On June 5, 2012, Scott Walker became the first governor in American history to survive a recall election. He received both more votes and a higher percentage of the vote than in 2010, proving again that Wisconsinites want leaders in office who keep their promises. On November 4, 2014, he was re-elected to a second term. Governor Walker and his wife, Tonette, have two sons.



Click Bio to Show More